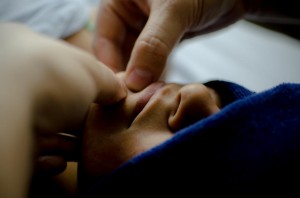 Shogo Mochizuki spent years developing the textbooks he used for classes. I can see how. Years ago in my career as an instructional designer at MindSpring and EarthLink, I learned for every classroom hour it can take up to 18 hours of curriculum design. Consider a 25 hour course in Kobido.
Since begining on this endeavor, I've been able to create instructional text and I'm sharing a small sample. Over the next few weeks, my team and I will be adding step-by-step pictorial documentation to aid in study.
Click to view PDF Kobido – Technique Reference.1.1s
The next step in supporting the students of SOJHA is then to create video tutorials. These tutorials will only be available to those who have taken the class. Later as we evaluate the quality and format, we may produce instructional DVD's.
If you would like to participate in any way in the production process whether it's in text or video editing, graphic design, or simply being a model, please contact us. We would welcome your contribution.
---
Until this comes to fruition, you can still find out of print editions of Japanese Facial Massage by Mochizuki on Amazon.